RECOMMENDED PATHS ON SCOOTER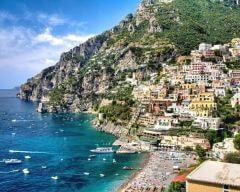 Magnificent tour of the Amalfi Coast!
Departure at 9:00 a.m. from the Freeway to the Amalfi Coast, a stretch of coastline famous around the world for its natural beauty.
Transfer by high quality scooter, practical and comfortable on the streets of the coast where, with the guided tour, we will proceed towards Positano.
Stop in a typical restaurant of the Amalfi Coast and after, there is the possibility to do a dip in the beautiful blue waters. Continue along the coast through Praiano, Furore, Conca dei Marini to Amalfi, glorious and ancient maritime where stands a magnificent Cathedral in Moorish style.
Return to Sorrento at 19:00 p.m.
For more information and for the price contact us by e-mail: info@freewaysorrento.com, visit our website: www.freewaysorrento.com or contact us by our number 081-18377811.
The tour will be organized with the presence of a minimum of 5 pax to a maximum of 8 pax. The price varies on the number of participants.